Here, you can buy work by De'Anne Crooks. Much of what you spend here will allow De'Anne to independantly create, write, print and share more work. You are supporting the practice of an artist educator, and for that, your contribution is considerably appreaciated.
Identity Politics zine : Collection 1




The first in a series of zines about De'Anne's autoethnographical investigation into identity politics. This zine captures an exploration of harmonies and clashes within generational migration; unfolding Blackness opposite and adjacent to Britishness. In this issue, De'Anne documents findings and feelings through writing and sketchbook pages.

[Each zine is unique and will be available in different colour variants ]





Millennial Love (2017) A4 Prints
Millennial Love (2017) is a contemporary expression of love conceived out of toxicity. Narrated through broken switch points, this oil painting explores themes of heartache, desire and abuse in a technological and mechanical generation. This work sat at the forefront of the 2019 solo exhibition 'Two Truths and a Lie' and exists as a symbol of intimacy, unravelling and healing.

In order of variant [pictured left to right]- 'Unravelled' - 'Watch me heal' - 'Loose love'

[This is an A4 print on unicorn white 200-250gsm paper, frame not included. ]
The Black Experience
Working with 2 very different spaces, this short insight guides you through a few ways in which you can use art education to tackle complex topics such as unconscious bias and race.

[This is an A5 booklet that folds out into an A2 poster on the reverse. ]
BEING within art education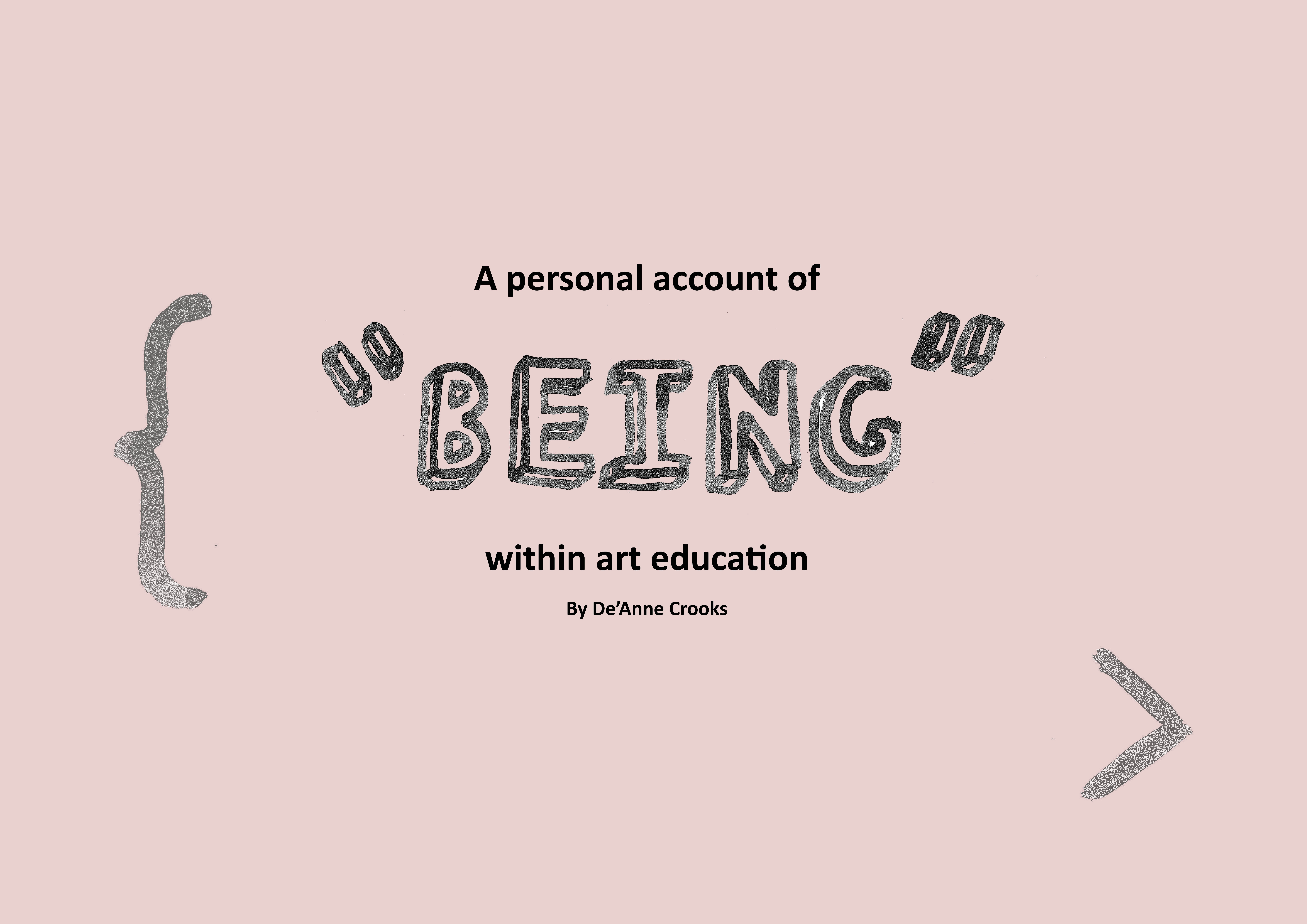 A philosophical reflection of what it means to exist as an artist educator and the parallels between the every day and teaching. Based on Barbara Bolt's analysis of 'Being and being' (theorised by Martin Heidegger), this work draws connections between existence and pedagogy.

[Please note that each copy is unique and will be inkjet printed onto A4 coloured paper and binded with treasury tags]
Climate Refugees Today
Using art education as a formiddable tool for societal progression, this guide discusses how you can use art education to tackle a global concern whilst decentering your western frame of reference.

[This is digital download only and will sent via email as a pdf file. ]
Mood (2019)
Mood (2019) is a original piece of art by De'Anne Crooks, first exhibiting at the solo show Two Truths and Lie. Made of up three 25.5 x 14 cm canvas fabric and mud roc sheets, Mood re-images the dynamic infrastructure of PET brain scan visuals. Using acrylic paint to mix colours that embody high levels of hue and saturation, the artist explores just how complex having a mood disorder is; particularly, bi polar disorder.

There are perceptions that bi-polar disorder is a linear switch between feeling sad and happy, but Mood(2019) aims to unpack the multifaceted layers of mood disorders; visualising how the brain fluctuates rapidly and gradually between a state of mania and depression.


---